Military Grade Protection
Our wraps are made from genuine CORDURA® fabric that is made to meet or exceed the physical military requirements of mil spec: MIL-DTL-32439 Type III, Class 3.
CORDURA® brand fabrics are used extensively in military combat gear and are engineered to deliver exceptional resistance to abrasion, puncture, and tears. Poly-coated for water resistance.
Available in solid shades or camouflage printed patterns (MultiCam®).
Sourced only from official CORDURA® authorized suppliers.
100% Made in the USA, Berry Compliant and IR Compliant material.
3M™ industrial strength VHB (Very High Bond) adhesive backing.
US Patent Pending: 63/325,137; 63/323,060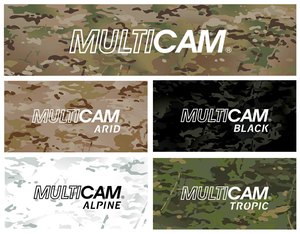 Patterns
MultiCam®: The base - the original combat-proven pattern that offers the widest range of environmental effectiveness - ideally suited for apparel & gear that must be employed throughout mixed or varied environments.
MultiCam Arid™: A pattern intended for open sand and rock - ideally suited for apparel when working exclusively in bright open desert terrain.
MultiCam Tropic™: A pattern intended for deep verdant jungle use - ideally suited for apparel when working exclusively in a dense jungle environment.
MultiCam Alpine™: A pattern intended for snow-covered areas - ideally suited for over-garments and gear covers when/where snow cover is present.
MultiCam Black™: While not a geographically-based pattern, MultiCam Black™ gives law enforcement groups a sharp and authoritative presence suited to domestic L.E. operations where projecting a strong and distinct image is a critical concern. MultiCam Black™ is designed to complement a wide range of existing armor and gear colors (for instance, green or black vests both look well-matched when paired with MultiCam Black™ uniforms).